For many homeowners, the garage is a very practical space — it keeps your cars housed, safe from weather, and it provides a place to work on hobbies and extra storage. If you have an attached garage, you may want to save a quick buck initially by not insulating it, and this may cause issues in the years to come.
Your garage is much more than a catch-all for your cars and belongings that don't fit in the house. It is a place to think and create, and having a properly functioning garage door is convenient, and some would argue, a must. At A & H Garage Door Services, we provide garage door repair parts and garage door replacements to help make your garage as functional as possible. Follow along in today's post as we navigate garage insulation.
Garage Insulation for an Attached Garage
As we prefaced earlier, adding or installing garage insulation is a "do!" Yes, you will survive without it, but it serves a very important function to your home. Even some properties that have shared walls to their attached garages are mandated by the government to have a certain R- value. An R-value is the resistance of heat flow in a material, so the higher the R-value, the greater the protective properties it has against heat. While there is no code or law enforced for insulation in a single-family dwelling, here are some reasons you may want to consider it.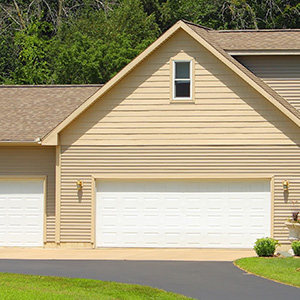 It acts as a barrier.
When your garage has insulation, it can act as a barrier and your home from harmful fumes, carbon monoxide, and exhaust. For example, say it's a cold winter day and you start your car and forget to open the garage door. The dangerous fumes then envelope the garage, making their way into your home. A properly insulated garage can contain the fumes, keeping you protected.
It also protects your belongings from humidity, which uninsulated garages are notorious for. The moisture can damage your valuables and harbor the perfect environment for mold growth, which you do not want to have to deal with!
It will save you in energy costs.
Choosing not to install garage insulation will make your energy costs higher in both the summer and winter seasons. In the summer, if you have a room that sits over an uninsulated garage, it will be extremely hot and you will have to run the AC at a lower temperature for longer, increasing your monthly bill. In the winter it will be cold, and oppositely, you'll need to bump the heat to warm the room.    
It protects your belongings.
Of course, storing your belongings in the garage protects them, but in an insulated garage, you may see the lifespan of recreational equipment such as skis and snowboards, kayaks, and bikes increase because they're better temperature-regulated and protected from moisture and humidity.  
Insulating your attached garage may be beneficial to you and your home because it acts as a barrier, saves you in energy costs, and protects your belongings.
A properly sealed garage does wonders, and a garage door is a part of that. For more information about our garage door services, call us today.